Sonoff RF Bridge 433
From ITEAD Wiki
Overview
Sonoff RF Bridge 433 is an ultra low power consumption device that can convert 433.92MHz (433MHz) to WiFi. It's a bridge between 433MHz RF and WiFi, which can be added to iOS & Android App eWeLink. Users can firstly pair 433MHz devices with the RF Remote, then add their RF Remote to the App. Therefore, users can control the 433MHz devices through App eWeLink. It's specially designed for mobile device and IoT application.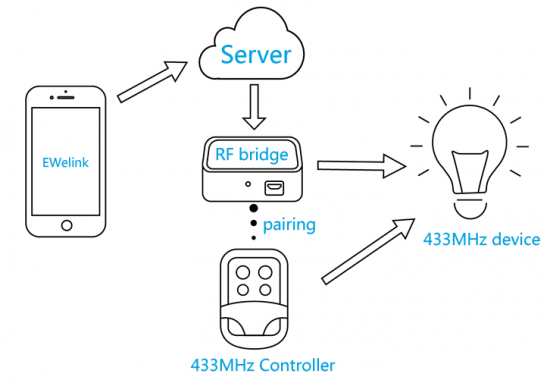 From the picture, you can see the relations among the devices clearly. Firstly, you pair the 433MHz RF Remote controller with 433MHz device. Secondly, you add RF Bridge to App eWeLink. Thirdly, add the 433MHz RF Remote controller to RF Bridge via App, pair the buttons one by one. Then you can press the button on the App to turn on/off the 433MHz device remotely. One RF Bridge supports to add up to 4 RF Remote controllers.
You can add not only 1-4 buttons ordinary RF Remote to the RF Bridge on App, but also curtain RF Remote and Alarm. Please note that you can't see device status changes on the App.
Go shopping Sonoff RF Bridge 433 (SKU:IM170619001)
RF Bridge Diagram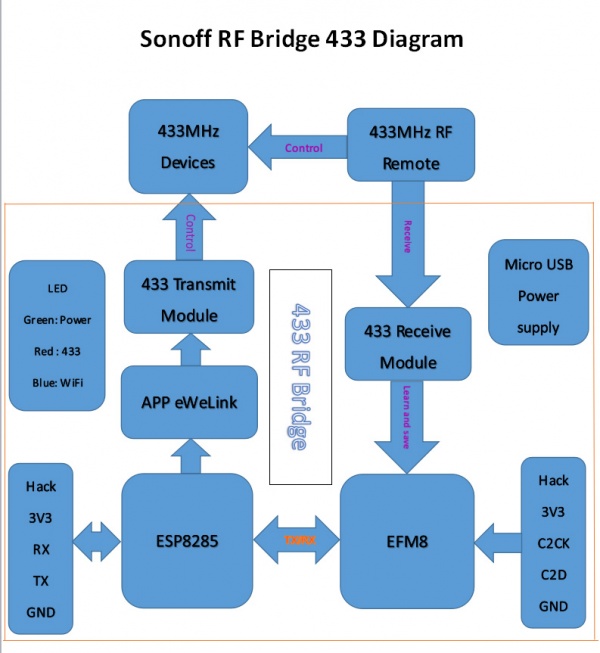 WIFI 2.4G Characteristics
Support wireless 802.11 b/g/n/d/e/i/k/r standard
Support STA/AP/STA+AP working modes
Support WPA/WPA2, PSK and WP
Built-in TCP/IP protocol stack
Support multi-channel TCP client connection
Support Wi-Fi Direct (P2P)
Multi-queue management, make full use of 802.11e-compliant QoS priority
Adaptive rate fallback algorithm sets the optimum transmission rate and Tx power based on actual SNR and packet loss information.
433.92MHz Wireless Characteristics
Complete monolithic UHF receive/transmit
Receive & transmit frequency: 433.92MHz
Receive sensitivity: -107dBm
Max transmit power: 17dBm
Transmission speed: 10kbps
Autotune without manual adjustment
Ultra low RF antenna radiation
The receiving supports fixed code encoding, like PT2260, PT2262, PT2264, EV1527, etc.
Not support to learn rolling code and dynamic code
Electrical Characteristics
The device is powered by micro USB cable. The power is supplied to the system through 3.3V LDO chip.
Rated Parameters
Power supply
Micro USB:+5V
System:3.6V
I/O voltage
VSS - 0.3 ~ VDD + 0.3
Node Temp.
+150℃
Storage Temp.
-40℃ ~ +125℃
Operating Temp.
-40℃ ~ +125℃
Soldering Temp.
260℃
Technical Parameters
Name
Type
Description
Chip
ESP8285,EFM8BB1
Wi-Fi
Wireless Standard
IEEE 802.11b/g/n/d/e/i/k/r
Frequency
2.412GHz-2.484GHz
Transmit Power
802.11b: +20±2dBm (@11Mbps)
802.11g: +17±2dBm (@54Mbps)
802.11g: +14±2dBm (@HT20,MCS7)
Receiving Sensitivity
802.11b: -91 dBm (@11Mbps ,CCK)
802.11g: -75 dBm (@54Mbps, OFDM)
802.11n: -72 dBm (MCS7)
Antenna
2.4G onboard antenna
433.92M
Working Frequency
433.92MHz
Demodulation Bandwidth
5000Hz
Transmit Power
Transmitting mode: 12.5mA
Idle mode: 3mA
Standby mode: 1uA
Receive Current
Continuous receiving mode: 3.9 ~ 4.5mA
Idle mode: 390uA
Standby mode: 0.9uA
Hardware
Operating Voltage
3.0 ~ 3.6V
GPIO drive of main chip
Max:12mA(ESP8285),12.5mA(EFM8BB1)
Operating Current
Continue sending:70~200mA
Normal working:30~200mA
Stand-by mode:<200uA
Hardware
Downloads
CE RED Certificate and Test Report for Sonoff RF Bridge 433
Sonoff RF Bridge 433 Schematic
RF Universal Transeceive Module Serial Protocol_v1.0
Useful Links

Wi-Fi Socket/Switch Fail to be Controlled Troubleshooting
Features wanted, bug report and discuss in Itead Smart Home Forum