Sonoff 4CH
From ITEAD Wiki
Overview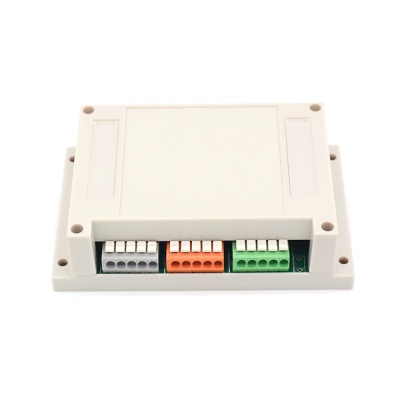 Sonoff 4CH is an ESP8285 WiFi module based 4 channel (4-way) WiFi wireless switch. Sonoff 4CH supports to connect and control 4 home appliances, which can be turned on/off separately by the buttons or iOS and Android APP EweLink.Owning a Sonoff 4CH means you have 4 Sonoff basic WiFi switches integrate together.
The enclosure supports din-rail mount! A DIN rail is a metal rail of a standard type widely used for mounting circuit breakers and industrial control equipment inside equipment racks. These products are typically made from cold rolled carbon steel sheet with a zinc-plated or chromated bright surface finish.
Sonoff 4CH belongs to Sonoff family, definitely, it bears all the functions basic Sonoff has. In EweLink, you can remote turn on/off from anywhere at any time, set single/repeat/countdown timing schedules to turn on/off at a specified time, share to others so that they can control together.
Sonoff 4CH is hacker-friendly! You can flash external firmware!
Go shopping Sonoff 4CH(SKU:IM160913003)
Features
Support independently turn on/off 4 home appliances
Support to control home appliances by local toggle buttons or APP
Support tracking device status and timely remote control through APP
Support countdown timing and schedule timing
Support one-key sharing device to other user
Electrical Characteristics
Voltage range: 90-250v AC(50/60Hz)
Max current: 10A
Max Power: 2200W
Humidity: 5%-95%
Wireless Frequency: 2.4Ghz
Working Temp: ﹣20℃-75℃
Max soldering temperature: 260℃
Wiring Instruction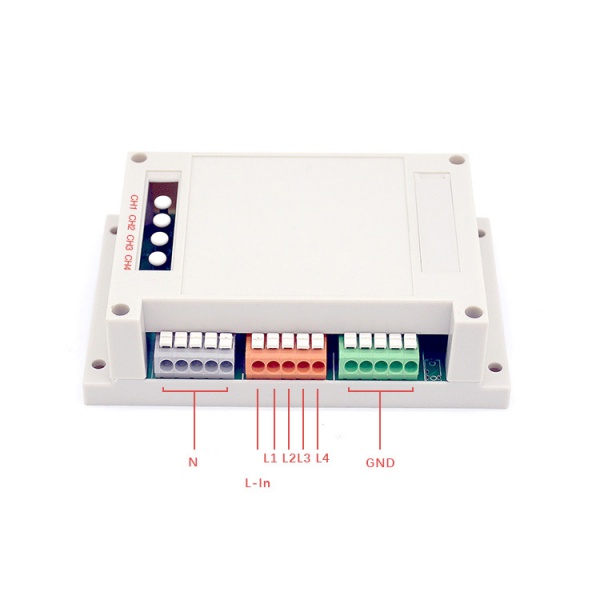 L-In: Input LIVE
Button of CH1 is also WiFi pairing button. Press and hold it until LED flash into pairing state.
L1,L2,L3,L4 port respectively connects to LIVE of channel 1, channel 2, channel 3, channel 4.
You can randomly connects to any of the five N port and 5 GND port for your device.
WIFI Characteristics
• 802.11 b/g/n
• Built-in Tensilica L106 ultra-low power consumption 32-bit micro-MCU, dominant frequency support 80 MHz and 160 MHz, support RTOS
• Built-in TCP/IP protocol stack
• Built-in TR switch, balun, LNA, power amplifier and matching network
• Built-in PLL, voltage regulator and power supply management components, 802.11b mode +20 dBm output power
• A-MPDU&A-MSDU aggregation and 0.4μs guard interval
• WiFi @ 2.4 GHz, supports WPA / WPA2 safe mode
• Support cloud OTA upgrade
• Support STA/AP/STA + AP mode
• Standby power consumption is less than 1.0 mW (DTIM3)
• Other parameters are as follows
Category
Parameters
Description
Wireless Parameter
Wireless standard
802.11 b/g/n
Frequency range
2.4GHz-2.5GHz (2400M-2483.5M)
Hardware Parameter
Data port
UART/I2C
GPIO/PWM
Operating voltage
3.0~3.6V(recommend 3.3V)
Operating current
Average: 80mA
Operating temperature
0ºC-40ºC(32°F-104°F)
Operating Humidity
5%-90%RH, Non-condensing
PCBA size
122.2*87.2*1.2mm
Software Parameter
Wireless network mode
station/softAP/SoftAP+station
Security mechanism
WPA/WPA2
Encryption type
WEP/TKIP/AES
Firmware upgration
Local serial programming/Cloud Upgrade/Host download programming
Software development
Support secondary development
Network protocols
IPv4, TCP/UDP/HTTP/FTP
User configuration
cloud server, Android/iOS APP
Specification
PCBA Size:122.2*87.2*1.2mm
Product Size: (L)14.5*(W)9.5*(H)4cm
Hardware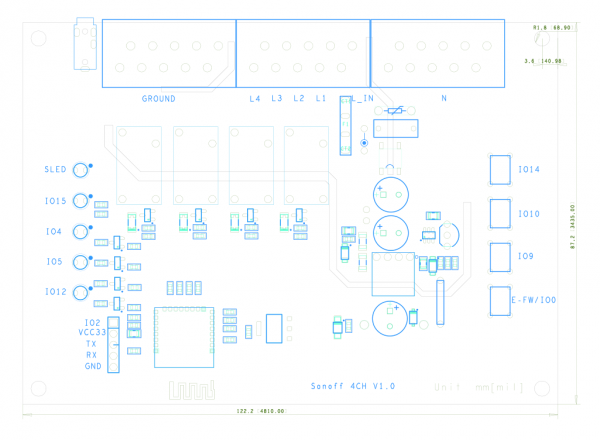 CE,RoHS,FCC Certificate
Sonoff 4CH & Sonoff 4CH Pro:
RoHS Test Report for Sonoff 4CH & 4CH Pro
FCC Certificate for Sonoff 4CH & 4CH Pro
FCC Test Report for Sonoff 4CH & 4CH Pro
CE-RED for Sonoff 4CH and Sonoff 4CH Pro
CE-EMC for Sonoff 4CH and Sonoff 4CH Pro
CE-EMF for Sonoff 4CH and Sonoff 4CH Pro
CE-LVD for Sonoff 4CH and Sonoff 4CH Pro
CE-RF for Sonoff 4CH and Sonoff 4CH Pro
Sonoff 4CH R2 & Sonoff 4CH Pro R2:
FCC for Sonoff 4CH R2 and Sonoff 4CH Pro R2
RoHS for Sonoff 4CH R2 and Sonoff 4CH Pro R2
CE RED for Sonoff 4CH R2 and Sonoff 4CH Pro R2
FCC ID Report for Sonoff 4CH R2 and Sonoff 4CH Pro R2
EMC Report for Sonoff 4CH R2 and Sonoff 4CH Pro R2
EMF 62311 Report for Sonoff 4CH R2 and Sonoff 4CH Pro R2
LVD Report for Sonoff 4CH R2 and Sonoff 4CH Pro R2
RF 2.4GWIFI for Sonoff 4CH R2 and Sonoff 4CH Pro R2
RF 300220 Report for Sonoff 4CH R2 and Sonoff 4CH Pro R2
Download
Useful Links
Wi-Fi Socket/Switch Fail to be Controlled Troubleshooting
Features wanted, bug report and discuss in Itead Smart Home Forum