Slampher
From ITEAD Wiki
Overview
Slampher is a WiFi wireless light holder that can connect to various light bulbs with E27 screw base. Slampher transmits data to cloud platform through WiFi Router, which enables you to remotely control all light bulbs with the App eWeLink. The server of Slampher is Amazon AWS global server.
Note: this Slampher has 433Mhz RF remote function. The RF remote controller is not included the package.
Slampher makes all lights smart, as long as your phone has network you can remotely turn on or turn off your lights from anywhere at any time. And by setting timing schedules for your lights, you can maintain a carefree life.
The App eWeLink enables you to control all your smart devices easily. You can download the iOS version in App Store and the Android version in Google Play.
Go Shopping Slampher(SKU;IM151116005)
Features
Support WiFi network.
Support status tracking, devices' status will timely feedback to your App.
Support single/repeat/countdown timing tasks.
Support numerous WiFi smart lights in one smart phone.
Easy installation, easy handling and can be activated immediately and stably.
Specification
Voltage range: 90-260v AC(50/60Hz)
Max current: 2A
Operating current: 1A
Max Wattage: 200 watts
Color: White
Operating Temperature: 0ºC-40ºC(32°F-104°F)
Operating Humidity: 5%-90%RH,Non-condensing
Wireless Frequency: 2.4Ghz
Hardware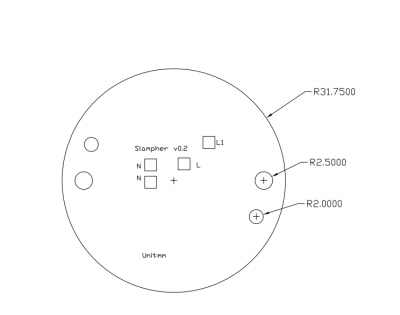 433MHz RF Remote
The Sonoff RF and Slampher has 433Mhz RF receiver inside, then you can pair them with the RF Remote controller.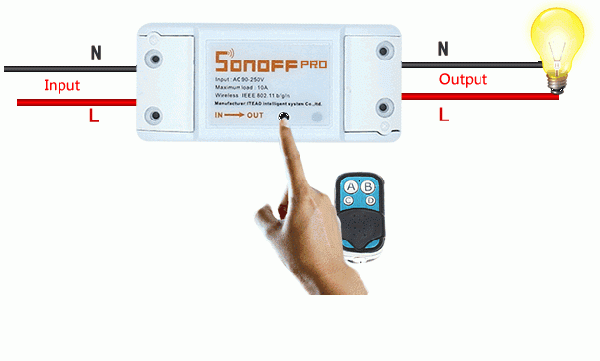 How to pair? Quickly press "SET" button on Sonoff RF and Slampher twice, the red LED on Sonoff RF/Slampher will flash one time, then press one of the ABCD buttons on the controller once for a few seconds to pair with. If you pair it with A, then you can press A to turn on/off your device.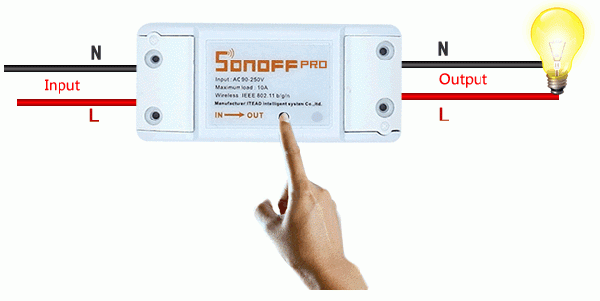 To clear the 433MHz RF pairing, you'll need to fast press the"SET" button on Sonoff RF/Slampher 3 times. If you short press the "SET" button, it will become a switch button, with it you can turn ON/OFF the appliance/light bulb.
Downloads
File:IM151116005-Slampher-View.pdf
Useful Links
Installation instructions and user guide
Open a ticket in Itead Smart Home Forum to request features, report bugs or discuss.