PSA Series Smart Switch Module
From ITEAD Wiki
Overview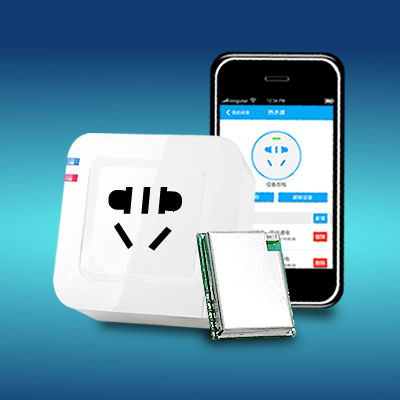 PSA series is a high integration and general-purpose smart switch module designed for wifi socket and wifi switch. With peripheral circuit like external power supply, relay, button accessing, manufactures can make use of this module to develop and produce smart socket or smart switch without any coding. PSA series module is capable of auto-searching and auto-connecting wifi, communicating with cloud server, being control by phone APP etc. PSA series includes several models, each of them supports different servers and different smartphone end APPs.
Go shopping PSA Series Smart Switch Module(SKU:IM150310008)
Functions
Support easy configure SSID and wifi password through phone APP
Support auto-connecting to IoTgo server, register product and update status
Support remote monitor and control by phone APP
Support setting timing task by phone APP (once or repeat is optional)
Features
Mini size, easy to installed into any shell
External antenna/ceramic antenna (optional)
High integration, no coding need
Specification
| | |
| --- | --- |
| PCB Size | 22.86 x 20.32 x 1.0mm |
| Power supply | 3.3V |
Electrical Characteristics
| | | | | | |
| --- | --- | --- | --- | --- | --- |
| Characteristics | Symbol | Min | Typ | Max | Unit |
| Power supply voltage | VDD | 3 | 3.3 | 3.5 | V |
| High input voltage | VIH | 0.8XVDD | - | VDD | V |
| Low input voltage | VIL | 0 | - | 0.2XVDD | V |
| Operation current for VDD | IDD | - | - | 215 | mA |
Pin Map
Pin Index
Pin Name
Description
1
NC
No connection
2
RELAY
Connect to relay. To turn on and off the switch.
3
SLED
Net Status Indicators
Stay ON – normal work
Repeat ON 100ms, OFF 1900ms – cannot connect to WiFi spot
Repeat ON 100ms, OFF 100ms, ON 100ms, OFF 1700ms - cannot connect to server
Repeat ON 1000ms, OFF 1000ms – device connects to server, but doesn't register to the corresponding account in server
Repeat ON 100ms, OFF 100ms – enter into SSID configuration mode
4
NC
No connection
5
KEY
Local switch button - use for turning on and off the socket or switch
Take effect when Low, default input is High
Long press (more than 5s), enter into the configure mode
Change the status of switch by pressing the local button
6
3V3
Module power pin
7
NC
No connection
8
NC
No connection
9
GND
Module power pin
10
NC
No connection
Hardware
Support APP
Model List
| | | | | | |
| --- | --- | --- | --- | --- | --- |
| ' | PSA-CN series | PSA-US series | PSA-EU series | PSA-JD series | PSA-QQ series |
| Server | Chinese server | US server | German server | JD+ | QQ IoT |
| App | Chinese app | English app | English app | JD Super app | QQ / Wechat |
Value-added Service
ITEAD has developed hundreds of baseboards to carry various SoMs. According to customer actual needs, we can design and develop the custom baseboard of PSA series module. The custom baseboard can be embedded in your products without your any extra labor and time. We charge the hardware design fee, but the design fee will be favorable if customer purchases in bulk. Design fee will be even free if purchase quantity exceeds a certain amount.
- We provide a We provide a public model design for your reference.
If customer needs a brand app to control your product with PSA module embedded, we will design the exclusive custom APP for your brand according to your requirements. The custom APP will definitely increase your brand awareness. Certainly, we charge the APP design fee, but the design fee will be favorable if customer purchases in bulk. Design fee will be even free if purchase quantity exceeds a certain amount.
- We provide a free app for module users.
Could Server Device Monitor
We can provide a custom monitor server for our customers. So customer can check the active products number, register number, and products online status. The monitor allows customers to send some promotional messages to users end. If customer needs server custom service, it will charge you server development fee and monthly maintenance fee.
- Now, the server we provide for customer is free, and guarantees all devices in server running normally but the monitor right not accessible.
PSA series module Reference Quotation
If there is no customization need, the custom fees including baseboard, APP, and monitor are free.
| | | | | | |
| --- | --- | --- | --- | --- | --- |
| Qty. | PSA cost | Baseboard cost [AC-DC/Relay/Button/LED] | Baseboard Custom Fee | APP Custom Fee | Monitor Custom Fee |
| 500pcs | 6.5USD | 2.00USD to 3.00USD | 1500USD | 2000USD | - |
| 2000pcs | 6USD | 1.50USD to 2.00USD | 500USD | 800USD | - |
| 5000pcs | 5.5USD | 1.20USD to 1.50USD | Free | Free | - |
This quotation is for reference. The actual wholesale price and custom baseboard cost shall be discussed with ITEAD, please contact with email: ps@itead.cc
Download