ITEAD PN532 NFC MODULE
From ITEAD Wiki
Overview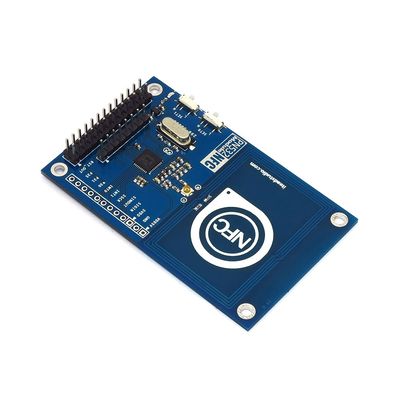 TEAD PN532 NFC module, as its name implies, is based on PN532 chip and used for 13.56MHz near field communication. The module is equipped with onboard antenna, thus no external antenna coil is needed. It is compatible with SPI, IIC and UART interface for communication. With NFC library support for Arduino and Raspberry Pi offered by us, it is quite convenient for development of products with NFC functions.
Go shopping ITEAD PN532 NFC MODULE (IM130625002)
Features
Longest effective communication distance of 3 cm
Supports switching of SPI, IIC and UART interface.
Can be used for 13.56M non-contact communication
Compatible with ISO14443 Type A and Type B standards
Specifications
| | |
| --- | --- |
| IC | NXP PN532 |
| Operating Voltage | 3.3V |
| Power Supply Voltage | 3.3~5.5V |
| Max Supply Current | 150mA |
| Working Current(Standby Mode) | 100mA |
| Working Current(Write Mode) | 120mA |
| Working Current(Read Mode) | 120mA |
| Indicator | PWR |
| Interface | SPI Interface, Std Raspberry Pi 20pins Interface |
Hardware
There are two slide switches on the board for selection of interface mode:
| | | |
| --- | --- | --- |
| | SET0 | SET1 |
| UART | L | L |
| SPI | L | H |
| IIC | H | L |
Software
1. Arduino Library
You can download Arduino NFC Library, unzip and place it in the corresponding catalogue in Arduino IDE software, and then you can use the example in the library directly.
This library only supports SPI mode. (PN532 NFC Module. The original library provides API for reading Passive Target ID of Mifare Card/Tags. This is enough for card/tag identification purpose. We have added APIs for authentication, reading from and writing to Mifare Cards/Tags. The software library only provides low level functionality. Users have to implement NFC application layer (if required).
2. Raspberry PI Library
For downloading address of Raspberry PI PN532_SPI Library, details about installation of library and operation documents, please refer to: http://blog.iteadstudio.com/to-drive-itead-pn532-nfc-module-with-raspberry-pi/.
Download
Library for Arduino PN532 SPI V2
Useful Links