IDSG101
From ITEAD Wiki
Overview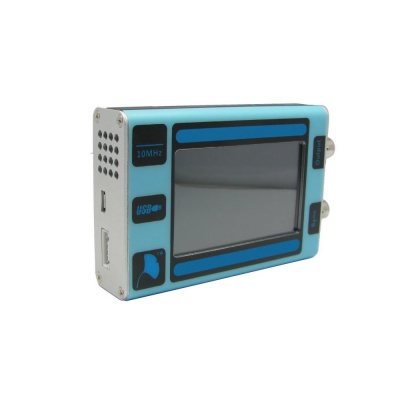 Based on several advanced technologies, IDSG101 can realize some unique functions that common desktop devices have in a small size. Though this device is as small as your hand, it can realize 80M sampling rate, maximum 10 MHz and 10Vpp range output.
IDSG101 is capable of full functional arbitrary waveform management and output. Because the data of arbitrary waveform adopts the files system management and the protocol is fully open to users, users can manage several arbitrary waveform files easily by the technology of virtual U disk.
With a high solution 3 inch full color LCD and resistive touch screen, IDSG101 has an expressive English interface, which helps users to get started using this device easily. IDSG101's firmware can be upgraded, and we will perfect this device gradually according to users' feedback.
Please visit its topic in our forum to know more discussion about this product.
Go shopping IDSG101(IM141013001)
Features
65536 colors, 240*400 solutions, 3 inch colored broadband LCD, and 4 wire resistive touch screen.
Built-in 15 kinds of commonly used waveform, 128 m arbitrary waveform storage space
The protocol of arbitrary waveform is open, support users editing
Can be virtualized in U disk, and realize arbitrary waveform files management.
80M sampling rate, maximum 10MHz output
14 bits high-speed DAC and 10Vpp output
Maximum 32768 dots arbitrary waveform channel, dots can be control at will
5V power supply, 200mA~400mA current consumption
Specification
| | |
| --- | --- |
| Standard Waveform | Sine, Square, Triangle, Sawtooth rise , Sawtooth fall, Sinc ,Noise, Exponential rise, Exponential fall, Positive full-wave, Negative full-wave, Positive half-wave, Negative half-wave, Gaussian ,DC |
| Sample Rate | 80 MS/s |
| Vertical Resolution | 14 bit |
| Arbitrary Waveform Length | 2 to 32 K points |
| Built-in storage | 128 M |
Frequency Characteristics
Output range
Sine
1 mHz ~ 10 MHz
Square
1 mHz ~ 10 MHz
Others
1 mH ~ 1 MHz
Resolution
1mHz
Accuracy
50 ppm
| | |
| --- | --- |
| Output range | 10 mVpp ~ 10 Vpp |
| Resolution | 12 bit |
| Accuracy | 8% of Setpoint |
| Offset Range | ±5V |
| Amplitude Flatness | ≥0.3 dB |
Duty Cycle
0.1%~99.9% (1mHz~1MHz)
lock 50% (1MHz~10MHz)
Rise/Fall Time
<20 ns
Overshoot
<5%
| | |
| --- | --- |
| output Impedance | 50 Ω |
| Ramp Symmetry | 0.1%~99.9% |
| Sync signal | TTL ( 4.8 V~5.2 V ) |
| Power requirements | DC ( 4.75 V~5.25 V, < 400 mA) |
| Display characteristics | 3-inch, 240x400 resolution |
| Dimensions (L x W x H) | 116 mmx76 mmx26 mm |
| Weight | 180 g |
Basic Operation
Connectors

Sync Connector: Sync Output. When you out put a standard wave through this connector, you will see a TTL wave (low level 0V, high level 5V) that have the same frequency and phrase with the standard wave you choose. It can be the clock or trigger signal of digital system when sync connector connect with digital system. Output Connector: Waveform output end. With an output Impedance of 50Ω, IDSG101 can output standard/arbitrary waveform though this connector. Please note that high voltage cannot be accessed to this connector.
Micro USB: For power supply and computer connecting.
Extension Connector: This connector includes UART, interface of trigger input/output.
Operation Interface
The operation interface pictures show as below. Since IDSG101 adopts a resistive screen, you'd better use touch pen to do operating.
Start interface (Support two languages: Chinese and English)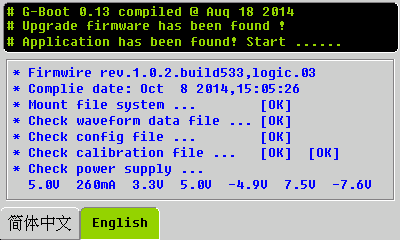 Function set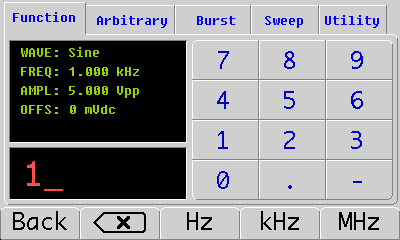 Arbitrary waveform choosing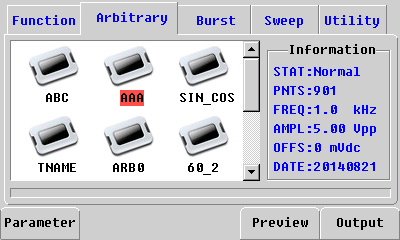 Burst interface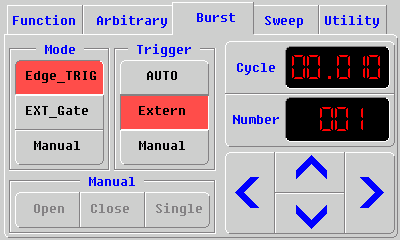 Sweep interface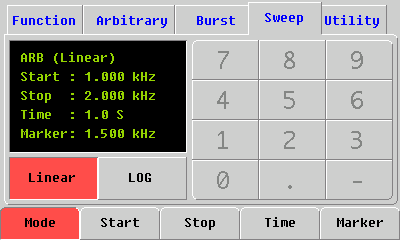 System set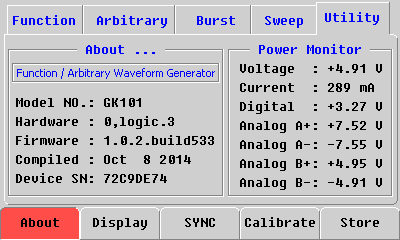 IDSG101 works as a virtual U disk
IDSG101 has a 128M memory that can storage the whole system and your arbitrary waveform files. Connect IDSG101 to your computer via USB cable, and then you need to press the "enter USB flash disk mode" button to make your computer identify this device.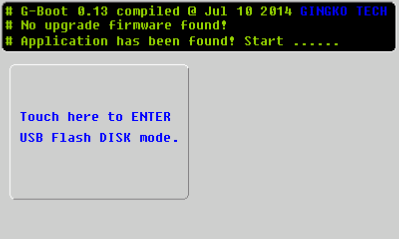 When they connect together, you can find two folders in the removable disk: <system> and <arb_wave>.
System folder cannot be modified. And you can put your waveform files in the folder <arb_wave>. Please note that IDGS101 supports wvt file only. If not this format, you'd better transform it to.
How to generate wvt waveform files
IDSG101 supports wvt waveform files only, we offer two methods to generate a wvt files.
Use Agilent Waveform Editor & Harmonic Wave Creator:
http://blog.iteadstudio.com/idsg101-manual-how-to-transform-the-arbitrary-waveform-format-part-1/
http://blog.iteadstudio.com/idsg101-manual-how-to-transform-the-arbitrary-waveform-format-part-2/
How to Upgrade Firmware
Firmware is keeping upgrading to fix the bugs and perfect the product.
Step 1: Download the firmware(update.bin file)
Step 2: Connect IDSG101 to you PC, and enter into the Virtual U Disk mode.
Step 3: Drag the firmware into the root directory of U disk.
Step 4: Exit the Virtual U Disk mode, at this time, IDSG101 will detect the upgrade firmware automatically.
Step 5: When you see the picture as below, please touch the button to upgrade.
Step 6: When upgrading the firmware, don't do any operation on this device, and don't cut off the power, otherwise, the upgrade will fail.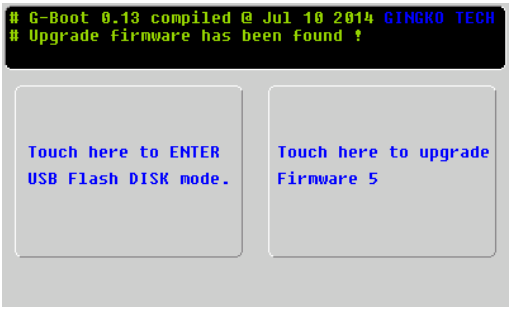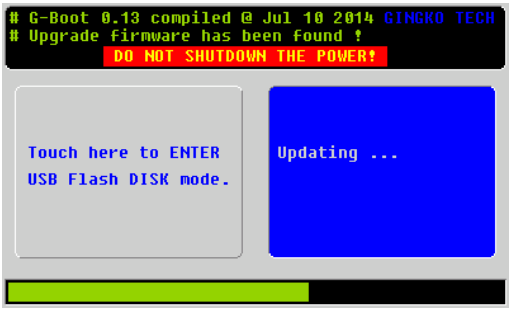 Step 7: To ensure the upgrade of firmware is successful, you can check your firmware information in System -> About
Arbitrary waveform display in IDSG101
Internal PCB
Useful Link & Download