Core AW204x
From ITEAD Wiki
Overview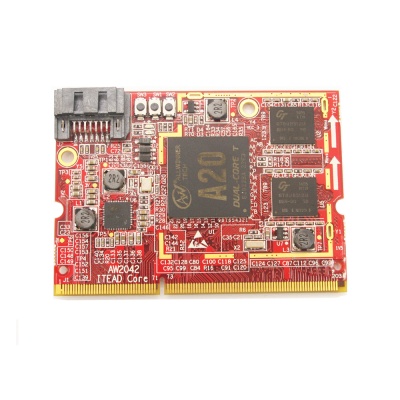 AW2041 means the module is composed by of Allwinner A20 MCU, 4G Nand Flash, 1G RAM; while AW2042 means Allwinner A20 MCU, 4G Nand Flash, 2G RAM.
The AW204x SOM combines Allwinner Technology's A20-Series Cortex Dual Core A7 SoC chip with RAM, Flash, Ethernet Phyceiver and power management on to a business card sized PCB.
With very high performance processing and multimedia capabilities and hardware accelearation support, AW204x serials SOM can handle 1080p video or highsolution images easily.
The AW204x makes all of the A20 features easily accessable,which helps you launch projects in seconds, with less effort and at a lower total system cost.
Images Download, please click here!
Go shopping Core AW204x(IM140725004)
Features
ARM Cortex A7 Dual Core 1GHz
Built-in power management unit
Built-in RTC
Support 10/100M/1000M
Full access to all A20 features
SO-DIMM 204pin Package
Fan-less, low power
Specification
 
 
AW2041
AW2042
Processor
CPU
Allwinner A20 dual core Cortex-A7 processor
Allwinner A20 dual core Cortex-A7 processor
GPU
Mali400 MP2
Mali400 MP2
VPU
CedarX
CedarX
Memory
 
1GB DDR3
2GB DDR3
PMU
 
AXP209
AXP209
FLASH
 
4G NAND
4G NAND
Connectors
 
SD Card, SATA
SD Card, SATA
BUTTON
 
Reset, FEL, POWER
Reset, FEL, POWER
Pin Out
 
UART/I2C/SPI/LCD/I2S/LVDS/GPIO….204pin
UART/I2C/SPI/LCD/I2S/LVDS/GPIO….204pin
Package
 
PC3-10600 DDR3 SO-DIMM
PC3-10600 DDR3 SO-DIMM
Hardware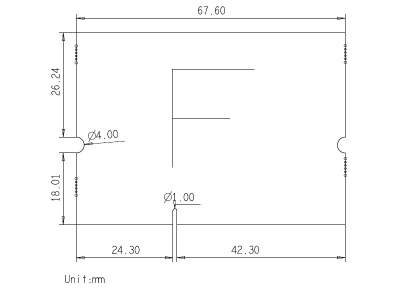 | | |
| --- | --- |
| | |
| Top view | Bottom view |
| | |
| --- | --- |
| | |
| Top view | Bottom view |
Pin Map
TOP
BOTTOM
1
5V
POWER
2
UBOOT
Conmand
3
5V
4
RESET
5
GND
 
6
PWR
7
GND
 
8
GND
 
9
3V3
POWER
10
LRADC0
ADC
11
3V3
12
LRADC1
13
GND
 
14
X1
15
VBAT
Save
16
X2
17
GND
 
18
Y1
19
HHPD
HDMI
20
Y2
21
HSDA
22
VMIC
Sonic
23
HSCL
24
LINL
25
HCEC
26
LINR
27
TXCN_HDMI
28
HPL
29
TXCP_HDMI
30
HPR
31
TX0N_HDMI
32
HCOM
33
TX0P_HDMI
34
GND
 
35
TX1N_HDMI
36
TVOUT0
TV
37
TX1P_HDMI
38
TVOUT1
39
TX2N_HDMI
40
TVOUT2
41
TX2P_HDMI
42
TVOUT3
43
GND
 
44
GND
 
45
DM0
USB
46
PB18
I2C1_SCL
47
DP0
48
PB19
I2C1_SDA
49
DM1
50
PB20
I2C2_SCL
51
DP1
52
PB21
I2C2_SDA
53
DM2
54
PB22
UART0_TX
55
DP2
56
PB23
UART0_RX
57
GND
 
58
GND
 
59
SD0-D1
SD0
60
PI10
SPI0_CS
61
SD0-D0
62
PI11
SPI0_SCK
63
SD0-CLK
64
PI12
SPI0_MOSI
65
SD0-CMD
66
PI13
SPI0_MISO
67
SD0-D3
68
PI14
PS2_SCK
69
SD0-D2
70
PI15
PS2_SDA
71
GND
 
72
GND
 
73
PI0
 
74
PI16
 
75
PI1
 
76
PI17
 
77
PI2
 
78
PI18
 
79
PI3
 
80
PI19
 
81
GND
 
82
PI20
 
83
PE0
 
84
PI21
 
85
PE1
 
86
GND
 
87
PE2
 
88
PG0
 
89
PE3
 
90
PG1
 
91
PE4
 
92
PG2
 
93
PE5
 
94
PG3
 
95
PE6
 
96
PG4
 
97
PE7
 
98
PG5
 
99
PE8
 
100
PG6
 
101
PE9
 
102
PG7
 
103
PE10
 
104
PG8
 
105
PE11
 
106
PG9
 
107
GND
 
108
PG10
 
109
PD00
LCD0/GPIO
110
PG11
 
111
PD01
112
GND
 
113
PD02
114
PH00
STATUS/Control/GPIO
115
PD03
116
PH01
117
PD04
118
PH02
119
PD05
120
PH03
121
PD06
122
PH04
123
PD07
124
PH05
125
PD08
126
PH06
127
PD09
128
PH07
129
PD10
130
PH08
131
PD11
132
PH09
133
PD12
134
PH10
135
PD13
136
PH11
137
PD14
138
PH12
139
PD15
140
PH13
141
PD16
142
PH14
143
PD17
144
PH15
145
PD18
146
PH16
147
PD19
148
PH17
149
PD20
150
PH18
151
PD21
152
PH19
153
PD22
154
PH20
155
PD23
156
PH21
157
PD24
158
PH22
159
PD25
160
PH23
161
PD26
162
PH24
163
PD27
164
PH25
165
GND
 
166
PH26
167
PA00
ETH
168
PH27
169
PA01
170
GND
 
171
PA02
172
PB2
 
173
PA03
174
PB3
 
175
PA04
176
PB4
 
177
PA05
178
PB5
 
179
PA06
180
PB6
 
181
PA07
182
PB7
 
183
PA08
184
PB8
 
185
PA09
186
PB9
 
187
PA10
188
PB10
 
189
PA11
190
PB11
 
191
PA12
192
PB12
 
193
PA13
194
PB13
 
195
PA14
196
PB14
 
197
PA15
198
PB15
 
199
PA16
200
PB16
 
201
PA17
202
PB17
 
203
GND
 
204
GND
 
Ordering Information
| | | | | | | |
| --- | --- | --- | --- | --- | --- | --- |
| Part No. | Product | CPU | NAND Flash | RAM | Thermal Soultion | Operating Temperature |
| IM140725001 | AW2041 | Allwinner A20 | 4G | 1G | Passive | Commerical |
| IM140725002 | AW2042 | Allwinner A20 | 4G | 2G | Passive | Commerical |
Download
Development Board
| | | |
| --- | --- | --- |
| Part No. | Product(model) | Description |
| IM140725003 | Core EVB |   |
Embeded OS
| | |
| --- | --- |
| OS | Description |
| ITEAD OS | ITEAD OS, base on Debian 7.0, 100% compatiable with ITEAD SDK |
| Android | Android 4.2 |