BB Arduino Capes
From ITEAD Wiki
Overview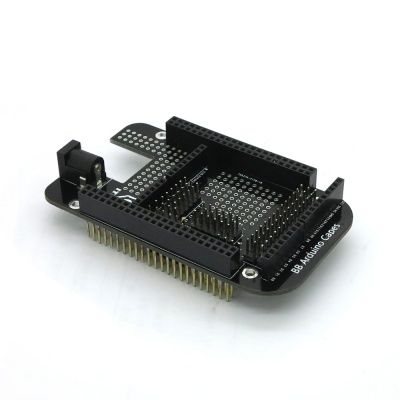 BB Arduino Capes is a breakout board designed for BeagleBone Board. It masses some pins of BeagleBone and turns them into the sockets that are compatible with Arduino and electronic brick. Thus, adding this cape plug-in board to the popular BeagleBone computer allows hobbyists, makers and developers to quickly and easily augment Beagle Bone's capabilities with Arduino shields and electronic bricks.
Go shopping BB Arduino Capes(IM150109001)
Specification
| | |
| --- | --- |
| PCB size | 95.76mm X 54.61mm X 1.6mm |
| Voltage Input | VIN: 7 ~ 15V |
Features
Compatible with Arduino interface
Support electronic brick interface
Hardware
(Click the picture to zoom in)
DC Power Socket
This socket supplies external 7-15V power to arduino shield through VIN pin.
GPIO Jumper
Since the ADC pin of BeagleBone Board cannot be used as GPIO, you can set ADC or GPIO function by choosing A0~6 in GPIO JUMPERS socket.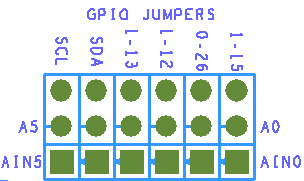 | | | | |
| --- | --- | --- | --- |
| Name of BB | Pin | Pin | Pin |
| GPIO1-15 | 1-15 | A0 | AIN0 |
| GPIO0-26 | 0-26 | A1 | AIN1 |
| GPIOGPIO | 1-12 | A2 | AIN2 |
| GPIO1-13 | 1-13 | A3 | AIN3 |
| I2C1-SDA | SDA | A4 | AIN4 |
| I2C1-SCL | SCL | A5 | AIN5 |
Pin Map
| | | | |
| --- | --- | --- | --- |
| Index of Interface | Name of Arduino | Name of BB | Function |
| 1 | D0 | UART1-RXD | |
| 2 | D1 | UART1-TXD | |
| 3 | D2 | UART2-RXD | |
| 4 | D3 | UART2-TXD | |
| 5 | D4 | GPIO0-7 | SPI1-CS1 |
| 6 | D5 | EHRPWM2B | |
| 7 | D6 | EHRPWM2A | |
| 8 | D7 | GPIO1-14 | |
| 9 | D8 | GPIO0-27 | |
| 10 | D9 | GPIO2-1 | |
| 11 | D10 | SPI1-CS0 | |
| 12 | D11 | SPI1-D1 | MOSI |
| 13 | D12 | SPI1-D0 | MISO |
| 14 | D13 | SPI1-SCLK | |
| 15 | SCL | I2C1-SCL | |
| 16 | SDA | I2C-SDA | |
| 17 | RX | UART1-RXD | |
| 18 | TX | UART1-TXD | |
| 19 | VIN | - | DC Jack |
| 20 | 5V | VDD-5V | |
| 21 | 3V3 | VDD-3V3B | |
| 22 | RST | SYS-RESETN | |
| 23 | VIO | VDD-3V3B | |
Download
Schematic--File:IM150209001 - BB Arduino Capes - schematic.pdf