12V DELAY TIMER SWITCH 30 SECONDS SUPPLY MODULE
From ITEAD Wiki
Overview
This product is designed for 12V automotive electronic equipments. 12V constant power behind the relay is a backup auxiliary power supply. The module does not need power supply after electronic devices in the vehicle are turned off.
Go shopping 12V DELAY TIMER SWITCH 30 SECONDS SUPPLY MODULE (IM131104001)
Parameters
Voltage: 12V
Dimension:61.1mm × 19.9mm x 18mm
Current: about 40ma during working; no current during standby
Max. output current: 5A
Default delay:30s
Operating mode
When there are ACC (12v) signals, the load (connection) works; when there are no ACC signals, relay will be switched on and it will be automatically turned off after a delay of power supply (ACC output terminals stops outputting voltage ) . And it prevents the devices from restarts.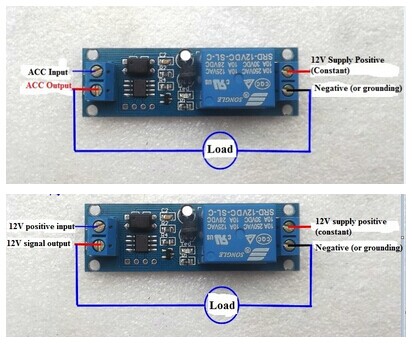 Applications
Can be applied in cars for delay-off features after vehicle is shut down: after shutting down, automatic delay off of headlights (fog lights, high beams, reading lamps, etc.) and windows; delay-off functions for automotive navigation systems, car audio, reversing radar , radio , CD or DVD and MP3.
Useful Links