Difference between revisions of "Sonoff G1 G2"
From ITEAD Wiki
m

 

Line 47:
Line 47:
 

|-

 

|-

 

| style="text-align:right" | 11 || France || Free  

 

| style="text-align:right" | 11 || France || Free  

 
+
 
+
 

|}

 

|}

 
 
---
Latest revision as of 04:06, 26 April 2018
Overview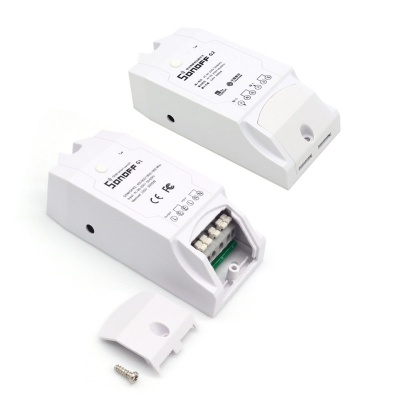 Sonoff G1 and Sonoff G2 are 1 gang WiFi smart switches that integrate with ST86 module(quad-band GSM/GPRS). Users can use the switch to turn on/off connected home appliances by pressing the local button or remotely by the App eWeLink.
Different from other Sonoff products that have to connect to WiFi or LAN, G1 and G2 use the data of the switch itself to control connected appliances. G1 supports to insert an external SIM card with 2G network(GSM/GPRS:800/900/1800/1900MHz) and use the data of the card to control appliances. G2 integrates with a China Mobile SIM card with 2G network, users can use the switch directly to control appliances.
Users can check real-time data from the interface, they can even top up data when the data running low. With Sonoff G1 and Sonoff G2, users can turn on/off appliances from anywhere at anytime. Users can create favourite scenes to trigger on/off a gang of devices with single touch. Besides, users can set up 8 single/repeat/countdown timers to auto-turn the appliances on/off at a specified time. They can share the device to their friends and family and give timer permissions as they want, so they can control the appliances or lights together.
Go shopping Sonoff G1(SKU:IM170424003)
Features
Local turn on/off
GSM/GPRS remotely turn on/off
Share control
Scene/smart scene
Scheduled/countdown timers
Check data plan/usage/remain (use ITEAD's SIM card)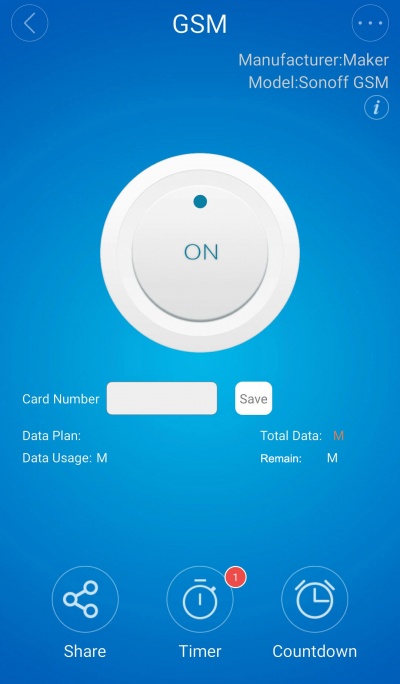 Unsupport List
Some countries have stopped providing with 2G networks, like America, Australia. And some SIM cards don't allow 2G network. Please confirm before you order this product.
Here's a list of SIM cards DON'T support Sonoff G1. If you find out more, please kindly tell us.
| NO | Country | Wireless Carrier |
| --- | --- | --- |
| 1 | Hungary | Telekom |
| 2 | Italy | TIM, Wind, Postemobile |
| 3 | India | Airtel Sim(4G Sim) |
| 4 | Uruguay | ANTEL |
| 5 | Denmark | Lebara, TDC, Telenor  |
| 6 | Spain | Simyo, Eroski, Jazztel, Pepephone, Orangeworld |
| 7 | Argentina | Telecom, Claro |
| 8 | Greek | VODAFONE |
| 9 | Czech | T-Mobile, Vodafone |
| 10 | Pakistan | Mobilink, Zong and Ufone |
| 11 | France | Free |
| 12 | Montenegro | Telenor, M-tel |
Specification
Power Supply: 90~250V AC (50/60Hz)
Max. Input Current: 16A
Max. Power: 3000W
Max. Soldering Temperature: 260℃
Weight: 100g
Product size: 114*52*32mm
Color: white
Wireless Frequency: 2.4Ghz
Operating Temperature(recommended): 0ºC-40ºC(32°F-104°F)
Operating Humidity: 5%-90%RH, Non-condensing
Product Characteristics
Parameter
Description
Power supply
90~250V AC (50/60Hz)
Low power consumption
Standby power consumption is 1.0 mW (BS-PA-MFRMS=9)
Band
Quad-band: GSM850, EGSM900, DCS1800 and PCS1900MHz
meets with GSM Phase 2/2+
GSM type
Small mobile station
Transmit power
Class 4 (2W): GSM850, EGSM900
Class 1 (1W): DCS1800, PCS1900
GPRS connection characteristics
GPRS multi-slot class 10
GPRS mobile station class B
Encoding formats
CS-1, CS-2, CS-3 and CS-4
Protocol
PAP Protocol (Password Verification Protocol) commonly used for PPP connections;
Built-in TCP/IP protocol stack
PBCCH Channel
Supports Packet Broadcast Control Channel (PBCCH)
Circuit-Switched Data (CSD)
Supports unstructured supplementary data services (USSD)
Short Message Service (SMS)
MT, MO, CB, Text and PDU modes
SMS storage: SIM card or module internal FLASH
SIM card slot
Support SIM card: 1.8V, 3V
Temperature range
Operating temperature: -40°C to +80°C
Storage temperature: -45°C to +90°C
Wiring Instruction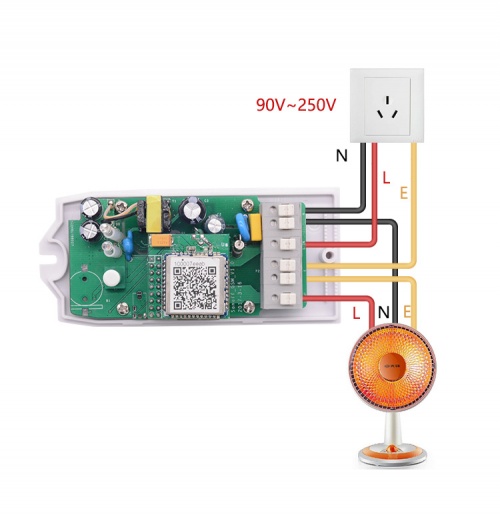 Note: the new version may have a different layout for L N E. Please pay attention to the print on the enclosure.
Useful Links
Downloads
RoHS Certificate for Sonoff G1 Sonoff G2
CE-EMC Certificate for Sonoff G1 Sonoff G2
Read the CE-EMC Test Reports:
Sonoff_G1_G2_CE_EMC_Test_Report
Sonoff_G1_G2_62311_Test_Report
Sonoff_G1_G2_Radio_Spectrum_Report