Difference between revisions of "Sonoff"
From ITEAD Wiki
m

m

Line 49:
Line 49:
 
 
 

[[:File:Sonoff view.pdf]]

 

[[:File:Sonoff view.pdf]]

 
+
 
+
---
Revision as of 08:44, 22 February 2016
Overview
Home automation is "The Internet of Things". The way that all of our devices and appliances will be networked together to provide us with a seamless control over all aspects of our home and more.
Sonoff is a low-cost, affordable device that help you to step into the amazing smart home.It is a WiFi wireless switch that can connect to appliance of different types and brands. Sonoff sends data to cloud platform through the WiFi Router, which enables you to remotely control all appliances with the App eWeLink on your smart phone. The server of Sonoff is Amazon AWS global server.
Sonoff makes all your home appliances smart, as long as your phone has network you can remotely turn on or turn off your appliances from anywhere at any time. And by setting timing schedules for your appliances, you can maintain a carefree life. Note: this Sonoff does not have 433Mhz RF remote function.
Go Shopping Sonoff(SKU;IM151116002)
Features
Support status tracking, home appliances status timely feedback to your App.
Support remotely turn on or off added devices.
Support Max 8 timing tasks for each added device.
Support numerous WiFi smart switches one smart phone.
Easy installation, easy handling and can be activated immediately and stably.
Specification
Voltage range: 90-250v AC(50/60Hz)
Dimensions: (L)88*(W)38*(H)23mm
Wireless Frequency: 2.4Ghz
Hardware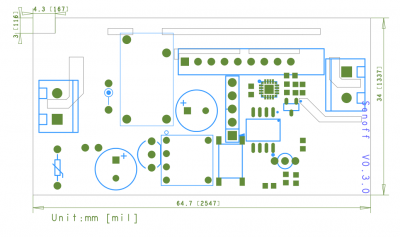 Downloads
Useful Links