Nextion HMI Solution
From ITEAD Wiki
Overview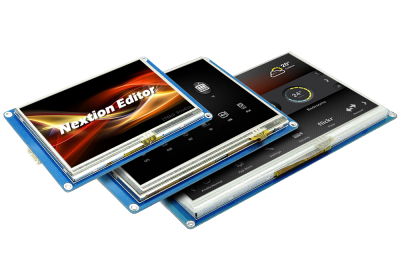 Nextion is a Seamless Human Machine Interface (HMI) solution that provides a control and visualisation interface between a human and a process, machine, application or appliance. Nextion is mainly applied to IoT or consumer electronics field. It is the best solution to replace the traditional LCD and LED Nixie tube.
Nextion includes hardware part (a series of TFT boards) and software part (the Nextion editor). The Nextion TFT board uses only one serial port to communicate. It lets you avoid the hassle of wiring. We notice that most engineers spend much time in application development but get unsatisfactory results. In this situation, Nextion editor has mass components such as button, text, progress bar, slider, instrument panel etc. to enrich your interface design. And the drag-and-drop function ensures that you spend less time in programming, which will reduce 99% of your development workloads. With the help of this WYSIWYG editor, designing a GUI is a piece of cake.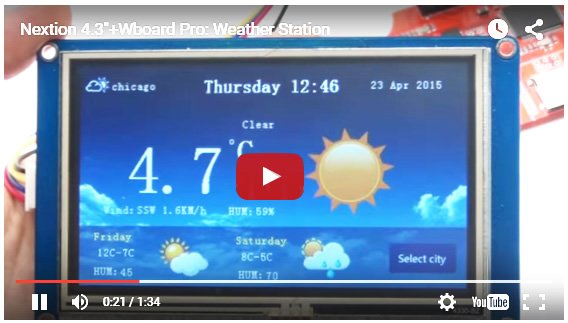 Watch the vedio and learn the tutorial click here.
Selection Table
Model
Size
Resolution
Touch Panel
Color
Flash(MB)
RAM(Byte)
SKU
Datasheet
Shopping
Nextion Basic Models
NX3224T024_011R
2.4"
320*240
RTP
65536
4
3584
IM150416002
Click
Click
NX3224T028_011R
2.8"
320*240
RTP
65536
4
3584
IM150416004
Click
Click
NX4024T032_011R
3.2"
400*240
RTP
65536
4
3584
IM150416005
Click
Click
NX4832T035_011R
3.5"
480*320
RTP
65536
16
3584
IM150918001
Click
Click
NX4827T043_011R
4.3"
480*272
RTP
65536
16
3584
IM150416003
Click
Click
NX8048T050_011R
5.0"
800*480
RTP
65536
16
3584
IM150416006
Click
Click
NX8048T070_011R
7.0"
800*480
RTP
65536
16
3584
IM150416007
Click
Click
Nextion Enhanced Models
NX3224K024_011R
2.4"
320*240
RTP
65536
16
3584
IM160511002
Click
Click
NX3224K028_011R
2.8"
320*240
RTP
65536
16
3584
IM160511003
Click
Click
NX4024K032_011R
3.2"
400*240
RTP
65536
16
3584
IM160511004
Click
Click
NX4832K035_011R
3.5"
480*320
RTP
65536
32
8192
IM160511005
Click
Click
NX4827K043_011R
4.3"
480*272
RTP
65536
32
8192
IM160511006
Click
Click
NX8048K050_011R
5.0"
800*480
RTP
65536
32
8192
IM160511007
Click
Click
NX8048K070
7.0"
800*480
RTP
65536
32
8192
IM160511008
Click
Click
NX8048K070_011R NX8048K070_011C
7.0"
800*480
RTP/CPT
65536
32
8192
IM170502001
Click
Click
1.Classification I: Operation Commands of Component and System
2.Classification II: GUI Designing Command
3.Nextion HMI: System Variables List
4.Nextion HMI: Color Code List
5.Format of Device Return Data
Nextion Editor(Official Download) is a development software used for visual building of graphic interface for embedded GUI-intensive devices with various types of TFT displays and Touch Panels. Using this tool, users can start creating TFT based devices in a faster and easier way.
In the future, Nextion Editor will provide a set of examples intended to speed up your work and creation process. Examples are fully-comented and explained, thus allowing a quick start in designing user interface. Browse through the given examples and learn how to create GUI application with minimum of time and effort.
We'll introduce the software in details as follows.
CE-EMC, RoHS Test Report and Certificate
CE-EMC Test Report for ITEAD Nextion Displays
CE-EMC Certificate of Compliance for ITEAD Nextion Displays
RoHS Test Report for ITEAD Nextion Displays
3D printing bezel
Some people requested a bezel. Thus our engineer designed 3D bezel models.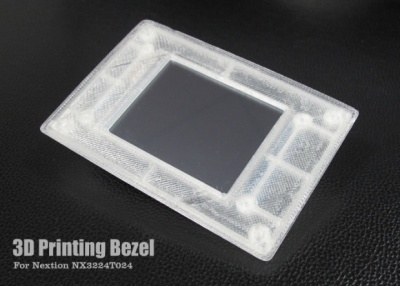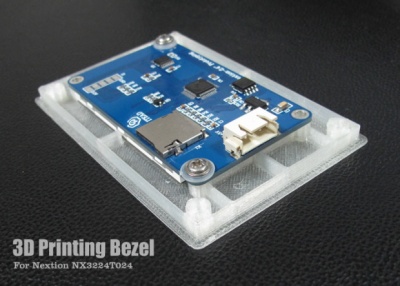 Nextion Bezel 3D Design in .STL format:
Useful links
Die Nextion TFT-Touchpanels im Detail
Tools, Tips, Tricks and How-TOs
Related Downloads
Demo for basic Nextion displays:
File:Demo_Nextion_2.4_v0_32.zip
File:Demo_Nextion_2.8_v0_32.zip
File:Demo_Nextion_3.2_v0_32.zip
File:Demo_Nextion_3.5_v0_32.zip
File:Demo_Nextion_4.3_v0_32.zip
File:Demo_Nextion_5.0_v0_32.zip
File:Demo_Nextion_7.0_v0_32.zip
Demo for enhanced Nextion displays:
File:Enhanced_Nextion_2.4-2.8_Demo.zip
File:Enhanced_Nextion_3.2_Demo.zip
File:Enhanced_Nextion_3.5_Demo.zip
File:Enhanced_Nextion_4.3_Demo.zip
File:Enhanced_Nextion_5.0-7.0_Demo.zip